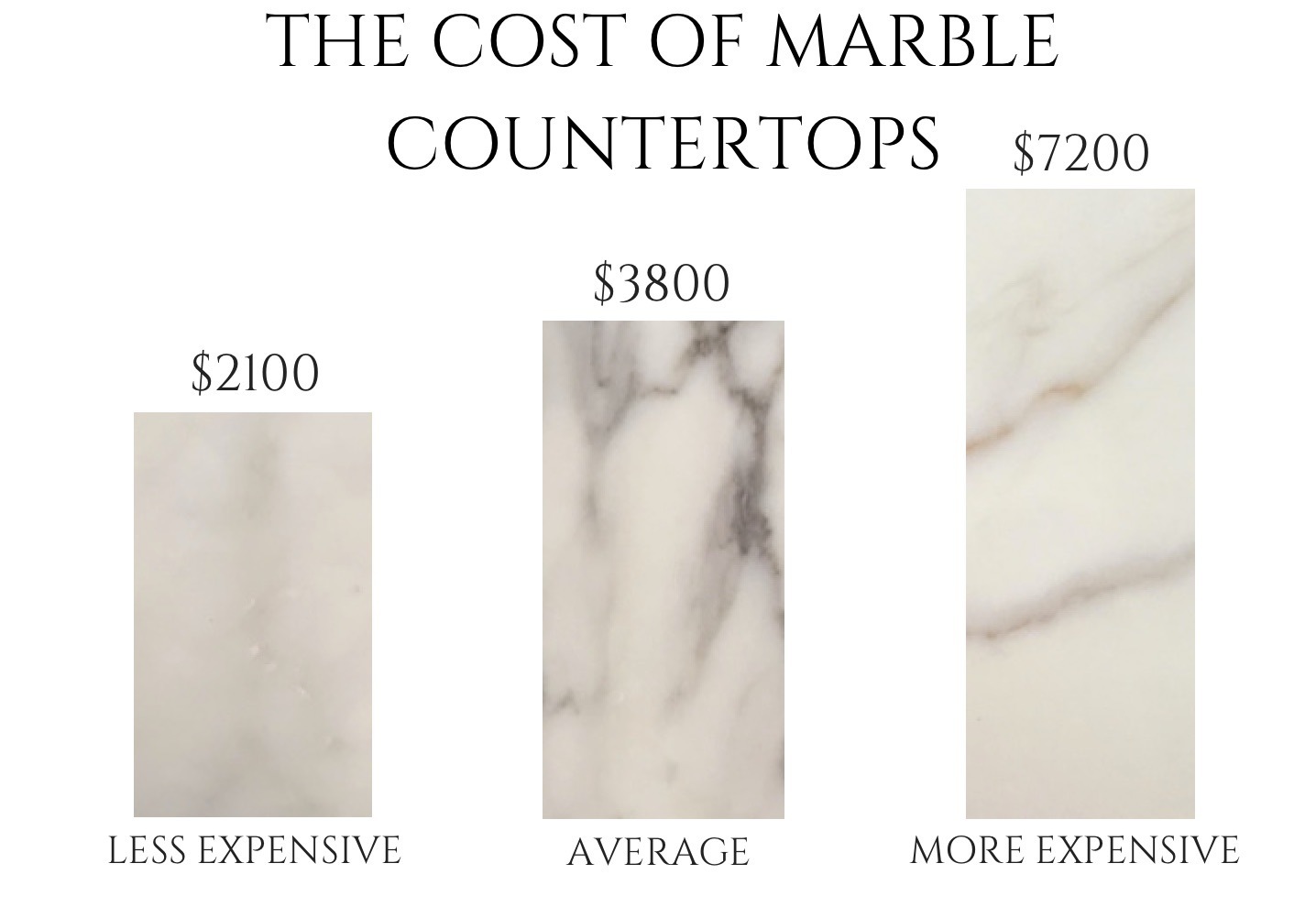 What you need to know about Marble Countertops Cost!
Are you currently planning for a kitchen or bathroom renovation or maybe building a new home and trying to plan and budget for the cost of marble countertops? If so, this is your article!
Pricing of different marble stones is a lot like the pricing of different diamonds. The most beautiful diamonds have no inclusions and are colorless, and the last thing you want to do is pay for a perfect diamond only to receive one with visible inclusions. Picking out marble is no different, by being aware of what drives the cost of marble you can get the best stone for the best price. This article will make you an informed buyer so you can save time and money, and finish the process with beautiful marble countertops!
Hassle Free Quote!
Get a quote from a verified and proven marble installation company.
Average Marble Countertop Cost
After interviewing 21 marble countertop installation companies and analyzing the cost of 1194 marble slabs we found the average marble countertop cost to vary between $50-250 per square foot. So for an average 40 square foot marble countertop, the average cost of the total marble countertop is $3800.
Unfortunately, we cannot give you a more specific number because their are many different factors that determine the cost. However, we will detail each of these driving factors to help you determine what to expect to pay for your countertops. We will also give you some tips to save some time and money while shopping for your marble countertops.
More...
These main cost drivers are:
Marble Installation/Labor Cost
Premium Services (Example: Premium Countertop Edges)
Additional Costs (Marble Sealers, Old Countertop removals)
We detail each of these cost factors below!
Marble Countertop Material Cost
The material cost of your marble countertop will vary based upon three main factors:
Marble Material Thickness
These will be discussed in detail below.
Marble Material Type
The marble countertop material is one of the most expensive parts of the countertop total cost and also creates the largest price fluctuation when pricing the countertop. The large variation in marble material cost is mostly dependent upon the type of marble you choose to install. There are hundreds of options of marble types, but almost all of the market is dominated by the beautiful white marble that is mined in Carrara, Italy.
$
48
Average Marble Material Cost per Square Foot
The marble that is quarried in Carrara, Italy is graded and priced much like diamonds. The most beautiful and rare marble is the most expensive, while the common and less beautiful stone is much cheaper. It is important to understand the difference between these grades of white marble so you can understand what you are paying for.
For example, when you went shopping for your diamond engagement ring you probably learned about how the color of the stone was a huge factor in the beauty and thus the cost of the stone. You learned that you did not want to pay a premium price for a diamond that was supposed to be colorless only receive a diamond that is visibly yellow. White marble is no different, the below information will make you an informed buyer and enable you to select a beautiful white marble countertop and also save money doing it!
Types of white Marble
Below are the different types of white marble from Carrara, Italy. The below types of marble start with the cheapest stone and go to the most expensive and range from approximately 10 dollars per square foot to 200 dollars a square foot.
(Images courtesy of Stone Masters INC and Marmi Rossi)
Bianco Carrara
CD
The cheapest of the white marble from the Carrara region of Italy.
The CD grade is a white to light gray in color and has gray and black inclusions in the stone. This grade lacks any vein definition.
Bianco Carrara
C
Another very common white marble from Carrara, Italy
The C grade is a whiter than the CD grade, but still does not have any vein definition. Any veins that are present are slightly muddy in look and do not have the vivid vein definition of a more expensive Carrara stone.
Venatino
This white marble is a much cleaner and whiter version of the Carrara C grade.
The Venatino marble has light gray veins that are much more defined than what you would find with the Carrara C or Carrara CD stones.
Statuarietto

​

This white marble is a nice clean white background with very vivid, beautiful gray veins.

The Statuarietto marble has a very crisp and vivid contrast between the clean white background and the gray veins.
Statuario Venato Commercial
This white marble is a nice clean white milky background with very vivid, beautiful gray veins.
The Statuario Venato is very similar to the Statuarietto marble but has a greater vein density and frequency throughout the stone slab.
Statuario
Venato
Prime
This white marble is a nice clean white milky background and very vivid, beautiful gray veins.
The Statuario Venato Prime defers from the Commercial grade by the vivid gray veins thickness. The Prime stone has much thicker veins that create a very characteristic beautiful look!
Statuario Venato
Extra
This white marble has a very crisp and clean white background with veins that have even more contrast than the Commercial and Prime Statuario grades.
The Statuario Venato Extra marble also begins to have small inclusions of gold that are much more common in a Calacatta Marble.
Calacatta Commercial
This white marble has a ivory-white background with a vivid gray-beige vein structure. The veins in Calacatta Commercial can very in thickness and density.
Calacatta Commercial has the characteristic gold inclusions and gold veins that make Calacatta uniquely beautiful.
Calacatta Prime
This white marble has a clean white background with a vivid gray-beige vein structure.
The Calacatta Prime stone typically has a thicker and more dense vein structure than the Commercial grade version.
Calacatta Extra
This is the most expensive of the white marble from Carrara, Italy. It is defined by a fine very vivid gray-beige veins that have complete contrast with the ivory white bulk background of the stone.
These different white marble types from Italy make up most of the marble installed today. Sometimes different suppliers will use different names to describe them, but the above gives you an idea of the different marble types and how they can affect cost.
For more options of different marble countertop materials, there is a great resource to help visualize some of these options for your marble countertop is MS International or AGM imports. Just filter at the top for marble!
If you still need help, use this great tool from ​MS International that allows you to visualize different stones in different kitchen, bathroom, or floor models.
Another great resource is Pinterest. There are literally tens of thousands of examples of different types of marble installed in places like bathroom showers to office walls.
For further information on how different marble affects the cost of the countertop we analyzed cost data on 1194 marble slabs and produced the below bar graphs to give you an idea of what the approximate cost per slab and per square foot of three popular marble types.
During the analysis on the 1194 marble slabs we found the average square foot cost of all the marble countertop slabs to be $48 per square foot.
It is best to select several options that you like and bring those to your local marble professional to get quotes on each. This is big for three reasons:
$
48
Average Marble Material Cost per Square Foot
1. Many times marble installers charge less for marble they already have in stock versus marble they will have to acquire from a supplier.
2. Marble Types like the ones shown above vary in price like the price of the stock market, and just like stocks they change will the supply and demand, popularity, and trends of the market. Therefore, it is important to ask for quotes for several material types and if you get quotes from multiple marble companies be sure to compare apples to apples. For example, do not compare the cost per square foot of Carrara CD marble to a Commercial Calacatta.
3. Do not forget about sales! Sometimes suppliers run sales on specific types of marble slabs that they have in stock. Maybe these slabs are out of style, or they have to much supply. For whatever reason, you want the supplier to be aware of your interest in several stones because you may be able to save hundreds to thousands of dollars on one of these options!
Marble Slab Thickness
Another cost factor that drives the wide range of marble material cost is the thickness of the slab material. There are three common material thicknesses:
Of the 21 Marble Installation companies that we interviewed, many of them recommended use of the 3 CM thickness because it is the perfect balance between strength and total weight. However, sometimes the thickness of the marble slab is determined by your geographical location. For example, 2 CM thickness seemed to be popular on the west coast and the northeast almost exclusively supplied 3 CM thick slabs.
Using data from MarbleandGranite.com we analyzed cost data for 1194 marble slabs to gather the following information about marble slab thickness.
$
2048
Average 2CM thick Slab Cost
$
2614
Average 3CM thick Slab cost
$
7024
Average 5CM thick Slab Cost
As you can see, the most common marble slab is a 3 CM thick slab, however these slabs are 21 % more expensive than the 2 CM slab. Therefore, when considering the thickness, keep in mind that when choosing a 3 CM or the rare 5 CM thickness will increase the material cost of your countertop.
The Difference between a Marble Supplier and Marble Installer
It is important to understand the difference between a marble supplier and a marble installer. A marble supplier typically sources and supplies the marble slab to an installer who cuts the slab to the required size and installs it into your home. Sometimes companies do both of these things and sometimes you will have to work with both a supplier and installer.
Generally speaking, it is easier to deal with a company that both supplies and installs the marble, but sometimes these companies have less marble slab options. So when beginning the shopping process just be aware that you may have to work with two different companies to source and then install your marble countertop!
How Marble Countertops are Priced
Another big factor in determining the total cost of your marble countertop installation is how the marble company prices the countertop. This can be confusing, and almost frustrating at times because one company may quote you per square foot of the finished product, one company may quote you per square foot of the required marble, and another may quote you for the per slab cost. The important thing to remember is that if your countertop is 30 square feet, then you may not pay for just 30 square feet of marble. You may have to pay for the slab, or you may have to pay for more than 30 square feet because there was a specific amount of wasted material.
It is important to understand how the marble company is going to price your marble countertop material so you can compare apples to apples if you are getting multiple quotes, below is an example of two price strategies that could change the total price by over $1000.
Let's say you are buying a Bianco Carrara C countertop for your bathroom that will measure 80'' by 22'' when it is installed. This marble countertop in its completed form will be roughly 12.5 square feet. The best case scenario would be that you pay for 12.5 square feet of marble at the cost of that specific marble per square foot. However, it may not work out like this. So two possible examples below:
In one case the marble installation company could charge you for half the slab since that is approximately what they need to make your bathroom countertop. However, half the marble slab is approximately 24 square feet, which is exactly twice we you actually need! To examine what this difference cost you, let's say the cost of this slab is $2000 dollars or approximately $45 dollars per square foot. Therefore, if you have to pay for half the slab which is 24 square feet, but you really only need 12 you would pay an extra $540 dollars. As you can see, how they charge you is very important!
Please note that it is not all lost, you could use the extra marble for many things like trim around the countertop, or maybe for a small vanity in another room. But the point is that you need to look past the cost per square foot if you are just thinking about your finished product square footage. There is going to be waste in the process, and the manufacturer is going to pass those cost onto you!
​
What if you had to pay for the whole Carrara Marble slab? Unfortunately, this is possible. You could be in this situation and have to pay for 45 square feet of marble, when you really only need 12. That is an extra cost of almost $1500 dollars, and note marble slabs can cost much more than $2000.
Pro Tip:
It is important to remember not to just budget for the cost of your marble countertops based totally upon the total number of square feet of your finished countertop at a specific cost per square foot. There will be waste, and the cost of this wasted material will in most cases be passed onto you as the customer!
​
Usually when you have this size of a countertop you could find a marble installation company that would charge you for only half the slab, or maybe get an even better deal by finding a remnant (left over marble from a previous job, usually sells at a discount).
Just keep in mind when budgeting and shopping for your marble countertop, it is possible that your end result square footage may not be how the company is charging you. By being aware of this, you can prevent some serious pitfalls in the planning process and save you some serious money down the road!
Marble Countertop Installation and Labor Cost
Installation cost is another factor that will drive the total cost of your marble countertop. In most cases this is the most expensive part of the job. The installation and labor cost is driven by two main factors:
Complexity and Size of the Job
Countertop Edges
Complexity and Size of Job
The complexity of your marble countertop design and install will be completely unique to your situation. In general, typical installs in a kitchen or bathroom with typical cutouts for sinks and faucets you should not expect anything but the average installation cost per square foot. However, if your have multiple cutouts, L or U shapes designs with multiple seams things can get more expensive.
You will be spending several thousands of dollars on your marble countertop install so we recommend not to shy aware form a more complicated design until you get a quote from your manufacturer. For example, and L shape countertop design with multiple cut outs will not kill your budget and if that is what you want, then it is probably worth the small increase in price. Just be aware that the more complicated the design the more the total cost!
Countertop Edges
Most companies will have 3-4 standard countertop edges that come with the typical installation price. Some of these standard edges are shown below:
Straight Edge
Very classic looking edge!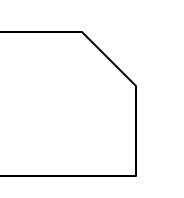 1/4'' Bevel
Nice Classic looking edge!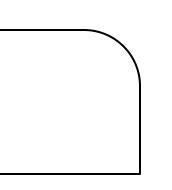 1/4'' Round
Very Common and Subtle Edge!
Marble Installation companies will also have several premium edges that can cost anywhere between $10-40$ a linear foot. Some Examples of these are shown below:
Full Bullnose
Great looking premium edge, however, be careful with water flowing off the counter.
Ogee
Most popular Premium marble countertop edge.
​If you do not know which marble countertop edge you would like, check out this great tool by Marble.com which gives you 3-D rendering of each edge option to help you see which one you like best!
Also, check out this very informative video (shown below) from Fox Granite Countertops that details the pros and cons of several popular countertop edges.
The number and type of free edges can vary from company to company so you will need to bring a couple of options to your installation company and get a quote from them, however, below is a general rule of thumb that separates a free edge from a premium edge.
In general free edges will require the modification or cutting on less than 1/4'' of the edge material. So if the edges require cutting on more than 1/4'', you will typically be charged per linear foot for this extra complexity. For example, the Full Bullnose from above requires the manufacturer to cut a unique shape into the entire marble slab edge. Therefore, almost all marble installers will charge you a premium for this edge.
Don't Forget the Miscellaneous Cost!
Removal of old Countertops/Plumbing
If you are doing a kitchen or bathroom renovation then do not forget about the cost of removing the old countertops, disconnecting plumbing, and leveling if applicable. These things can add up, and could ruin a budget if you forget about them until the very end.
Marble Sealer Addition
Also, in most instances you will want to apply a marble sealer. So do not forget about this cost!
In most cases the marble sealer cost will be very insignificant compared to the total cost. Most quotes for the marble sealer application will be no more than $10 dollars per square foot. However, something important to think about is whether or not you would like to purchase a warranty for your marble sealer. This is effectively an insurance policy that will be underwritten in most cases by the marble sealer manufacturer, and in the event of a stain the company will pay to fix it.
Of the Marble Installation companies interviewed, the most popular was the DuPont Sealer which comes with a 15 year warranty for $299.
If you are unsure about the use of marble sealers, or if you will need one, then check out this article on marble sealers.
Crucial Countertop Buying tips!
Be sure to get more than one quote from one marble installation company. As we have discussed above, there are many variations and factors that drive the price of your marble countertop installation, so by checking with at least one other vendor could save you hundreds of dollars!
Request the total "Out the Door" Price!
As discussed above, their are many features and ways to price a countertop, so make sure you get the out the door price when comparing two companies. Do not just simply compare price per square foot.
Pro Tip
"Make an overview sketch of your kitchen countertop needs (including dimensions) and bring it with you to the slab yard and/or your fabricator. This will help determine how many slabs will be required to do your job. This will also allow you to get a quote that is accurate based upon your actual needs."
Dan DiTomaso
Stone Masters Inc
Look at the actual Slab, not just the Sample Material!
Each Marble Stone is truly unique, so by just looking at the sample you will not get the full look of the slab that you are about to spend thousands of dollars on. Be sure to look at the actual slab and make sure its perfect before installation!
Don't Forget about sales!
During the year most marble companies will run sales. Sales are common around christmas time because consumers are typically out buying other things, so you may be able to get a serious deal.
However, it really depends on your location! Just be sure to ask your local marble installation company if they offer any sales, or what time of year they typically offer sales. If you are not on a specific timeline, you may be able to wait and save hundreds to thousands of dollars!
Check out the below infographic that shows the breakdown of marble countertops cost.