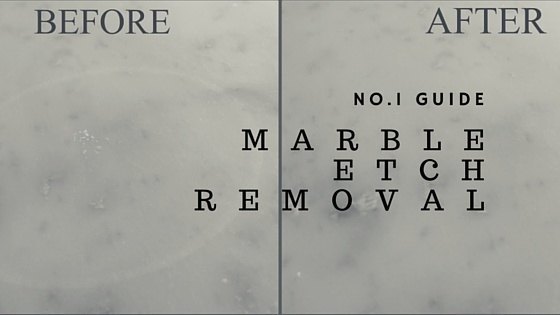 The Easy way to How to remove Marble Etching
Are you trying to remove those frustrating etch marks from your beautiful marble surface with no success? Well we have, and we understand the frustration. This article will tell you all you need to know to remove these marks, and have your marble looking spot free in no time!
More...
What you will need
Spray Bottle with clean water
Steps to Remove your Etch Mark
Wipe the surface Clean
Above the Etch Mark, wipe the surface clean of any grit of dirt.
Add MB 11 Polishing Powder
Add enough polishing powder to cover the entire etch mark.
Be sure to completely cover the entire etch mark with the polishing powder.
Spray Water over the Polishing Powder
Spray the polishing powder 2 to 3 times with the spray bottle to dampen the polishing powder.
Dampen the Towel, and Begin scrubbing the Stain
Spray the towel about 2 to 3 times with the spray bottle to dampen the white towel, then begin rubbing the etch mark for 20 seconds to 1 minute. The etch mark should begin to rub away.
---
Pro Tip:
---
When rubbing the marble with the polishing powder, do not apply a lot of pressure because you could scratch the marble. It is more important to rub quickly or at a high frequency until the etch mark is gone. If the mark does not go away after 20 seconds, slowly begin to apply more pressure to remove the mark.
---
Clean up using a marble cleaner
After the marble etch mark has been removed, spray a marble cleaner over the surface. Then wipe and clean the surface with a clean towel. Once clean and free of any extra polishing powder, dry the surface completely!
Our recommended Marble Cleaner:
Marblelife Marble Cleaner
We did an extensive study to determine the best marble cleaner. We did 21 hours of research, and spent 9 hours testing 6 different marble cleaners to determine the best preforming marble cleaner. Check it out here if you are unsure which marble cleaner is best for you.
If this does not remove the etch mark then we recommend letting the surface dry, and then re-trying the process one more time. Usually repetition will solve your problem, if not, it may be time to contact your local marble professional.
Why does the Marble Polishing Powder Work?
When you spill an acidic substance on your marble surface the acidic agent reacts with the calcium carbonate that makes up your marble and dissolves parts of your marble surface. Once the acid has completed its work, a small spot on your marble surface has turned to a dull unpolished color.
What the acid has done is remove part of the surface of the marble, and what is left behind is marble that was below the surface and is therefore unpolished unlike the rest of your marble. Thats why it looks so dull compared to its beautiful surroundings. For more information see our 7 Facts about Etching on Marble.
To fix this, you actually polish this spot of marble back to its original form so it matches its polished marble surroundings. Once you buff the stain out, it will look like the rest of your marble, and you will no longer see the spot!
Please note we only recommend this marble etch removal process for use on polished marble. If your honed marble has been etched we recommend you contact your local marble professional.
I hope this helped you remove your marble etch mark. If you have any questions please comment below, we check every single one!
If this article was helpful, please share below so others can benefit as well!